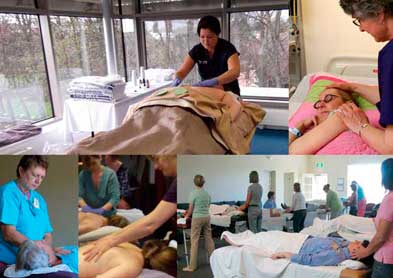 Oncology Massage Education Associates is a collaboration of massage instructors who specialize in working with and teaching about massage for people living with cancer. Our mission is to present trainings that give information and provide experience to professional massage therapists, advanced students of bodywork and allied health care professionals wishing to provide massage in a safe manner to clients or patients with a history of cancer treatment.
Each instructor has training and experience with clients in the hospital and clinic setting, hospice and palliative care, private practice and special events for cancer survivors. We are aware of the needs of those who have gone through cancer treatment, such as adjusting for the risk of lymphedema, fatigue, bruising, immunosuppression and the side effects of trauma to the body and spirit.
All people with cancer or recovering from its treatment can receive touch therapies such as Swedish massage, shiatsu, Reiki, or fascial release techniques, to name just some. The key to safety and comfort for clients is in the adjustment of pressure, length of session, positioning, and avoidance of affected areas of the body. Bodywork during treatment and immediate recovery should be undemanding, supportive and soothing. As the client's energy returns, massage sessions can be part of improving function through range of motion techniques or scar release, or re-establishing body image.
Our focus as teachers is to present the seminar in a holistic way that models the care and support that we advocate for people living with cancer. We blend the cognitive domain with the emotional, experiential and spiritual realm. There are times when hearts open, heads overflow, and hands are quieted as therapists find new ways to touch others in need. Participants take away an abundance of clinical information, but equally important are the life lessons and increased personal awareness that happens as a by-product.
Each instructor is an independent contractor who follows a set curriculum that has been recognized by the Society for Oncology Massage as well as being approved by the National Certification Board of Therapeutic Massage and Bodywork. Please go to the "Course Offerings" in our menu to get specific information on each course. Courses are offered on the following topics:
Massage for People Living with Cancer

Massage in the Oncology Setting

Gentle Scar Tissue Mobilization Techniques for the Post-Mastectomy and Radiation Treatment Client

Mentoring in the Basics of Oncology Massage

Refresh, Renew and Review of Massage for People Living with Cancer

Massage for the Chemotherapy Infusion Patient
Further information about oncology massage and how it differs from other massage can be found on the Society for Oncology Massage website at: www.S4OM.org.